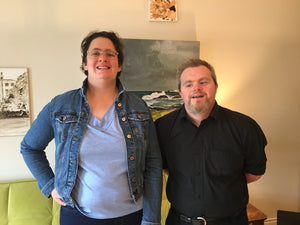 The Mariner // 25 - 30 Oct // Daily
This exhibition is a body of work created by Lisa Dunning and Maitiú Quinn over the past year during their art classes with Artist Máire Keogh.
Lisa's focus is on landscapes and seascapes painting in gouache and acrylic.She uses her own photography as inspiration for her work in her Mayo surroundings. She also likes to paint flowers.
Maitiú uses thought processes to produce powerful colourful geometrical paintings in acrylic. He uses words which bring a fascinatiing angle to his work. This is a unique and dynamic contrast of talent by two budding young artists from Westport.