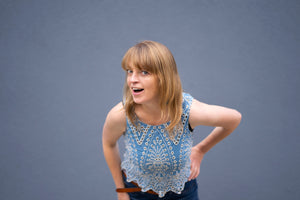 Venue TBC // 28 Oct // 11:30 - 14:30
Diane didn't grow up expecting to be an activist, it just sort of happened, one minute she was holding a pint in the pub the next it was a placard at a protest.
Sure the Climate Crisis isn't funny but have you tried to have a laugh about it.
A quick-witted comedy stop about a woman trying to find her place in the midst of this mess. You'll be laughing, crying and perhaps grabbing a placard on the way out.
Diane's has played Electric Picnic, appeared on RTÉ, BBC Radio, Lyric FM and written for Hotpress, The Journal among others.