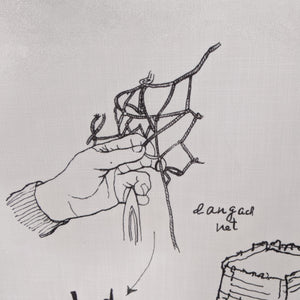 Town Hall Theatre // 25 - 30 Oct // Daily
Launch: Wednesday // 25 Oct // 20:00
The Hand Remembers is an exhibition developed by Mags Duffy. It was previously
displayed at The Museum of Country Life in Turlough. It depicts stories told through
illustration, the making of objects, voice, drawing, stitching, and sewing.

Inspired by the artist's interest in the intrinsic link between the act of making with
our hands and the telling of stories, Mags Duffy worked creatively with members of
the retired community living in Westport to bring this exhibition together. From
spinning yarn and lobster pot making, to willow weaving, poetry and embroidery.
The Hand Remembers is a celebration of knowledge, memories and forgotten skills.

The Hand Remembers was funded by Creative Ireland and supported by the Mayo
Arts Office as part of the 2023 Bealtaine programme.