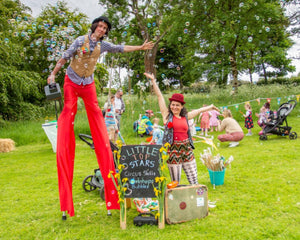 The Clew Bay Hotel // 30 Oct // 11:00 + 13:00
Following the booked out event last year,
Little
Top
Stars are back for more. 
Get ready for a jam-packed hour of circus tricks and skills conducted by 2 Circus performers. 
Little
Top
Stars circus skills workshops use games, accessible techniques & equipment to teach achievable tricks.
Your workshop will be run by:
Beanie 
At the age of four I began learning circus skills using a broom. I soon realized how flexible I was & decided to learn contortion and aerials. As soon as I could I ran away with the circus. 

Finn 
Having supported international projects through social circus, I completed an honors degree in Social Care. I now travel around Ireland performing and teaching participants from all walks of life.
Smaller Kids Session 11am: approx 3 - 6yrs
Bigger Kids Session 1pm: approx 7 - 10yrs