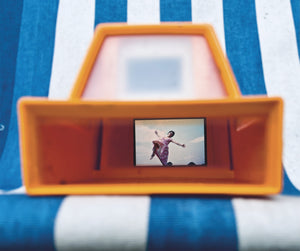 The Whyte House, Market Lane // 26 Oct - 30 Oct // Open 17:00 - 19:30
 A multisensory experience where art meets science to celebrate shared memories.

"The past is never where you think you left it". Katherine Ann Porter
 We establish who we are, based on the influences from our upbringing and our daily experiences.
This engaging, emotive piece will challenge your perceptions, provoke curiosity, inspire, amuse and educate.  
Local artist Nicky Dowd collaborates with Visual Programmer Tomás Moran and Soundscape artist Adam Kennedy to explore our cognitive vulnerability in relation to memory recall.
Inspired by the world around him, Gordon Helliwell documented his life and careers from the 1950's in a body of over 4000 transparencies which is the core inspiration for this multisensory experience exploring Dementia. It encompasses Photography, Graphic design, Art, Architecture, Family and Naturalia
 "Out of Focus" reflects the memories and artifacts Nicky shares with her parents that will be passed on to the next generation but acknowledges the distorted and fading narratives that are inevitably lost with time.