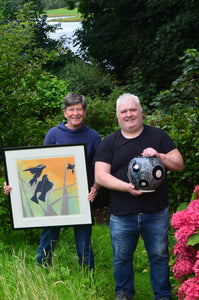 Townhouse (Upstairs) // 26 Oct - 4 Nov // Launch 26 Oct 20:30
An exhibition collaborating original hand painted ceramics by local artists Roger Harley

( Ceramicist) and Original Linocut Prints by Sheelyn Browne ( Printmaker ).
Sheelyn Browne
People often ask me  "What are your Influences? " I reply " Deffo a mix  of day to day surroundings – the comings and goings, the constants, and the changes. Things sometimes just pop into my head! Generally I like capturing an image quickly and in the first drawing, and then I translate through print. Hope you enjoy the show! Wonderful to be exhibiting with Rodger on this occasion.
www.sheelynbrowne.com
Rodger Harley
This Exhibition gives me a great opportunity to show my work along side Sheelyn Browne's print works. I have been creating pottery for the last 30 years and have always been working to experiment in both shapes and decorating techniques. This exhibition will be a display of what I've achieved over my ceramics' career.