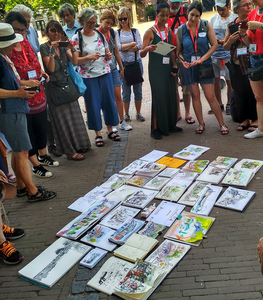 Wyatt Hotel, The Octagon // 30 Oct // 10:30
Painters, sketchers, dabblers and total beginners are invited to meet for a quick coffee prior to scattering to a place of their choice to paint or sketch in or around Westport. The Mall, the Quay, or the grounds of Westport House are suggested, or you could brave the town centre and all the attention of passers by.
Painting and sketching is a wonderful way to totally enjoy a place, it's architecture, it's atmosphere, the nature around it. Westport's colours are at their most beautiful in late Autumn.
Artists will then reconvene for a drink and to compare their works and the day's experiences at McGing's Bar at 5pm.
What to bring: Sketch books, pencils , pastels, paints, canvases, easels etc depending on your chosen medium. Also recommended: layers of warm clothing, hat, gloves, etc. flask of coffee /tea etc., packed lunch if wished and a fold up seat.