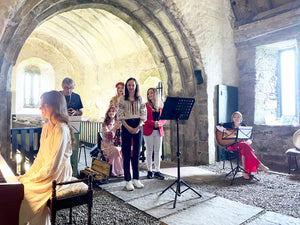 The Mariner Hotel // 29 Oct // 13:00
Ensemble Незламні (Unbreakable), Ukraine.
Following their successful appearance at Westival 2022, this ensemble of talented singers and musicians, living in Westport, returns to present an exciting Ukrainian cultural experience for festival patrons at this year's event. 
As always, the Ensemble Незламні, (pronounced Nezlamni) brings a wide range of performance experience and musical skills to the Westport stage.
This concert, on Sunday 29th October, is supported by Westport Welcomes Ukraine and offers an eclectic mix of folk and contemporary music selections from Ukraine, featuring innovative original arrangements. The ensemble is joined for this performance by musician/producer, Ian Leslie.
'Their recent concert at the Clare Island Folk Festival was a resounding success. The stunning setting of the historic old abbey as a venue, the impressive group performance along with an enthusiastic audience response made for a memorable experience for all and was really appreciated by the group'.
This concert is a fund-raising event for 'Westport Welcomes Ukraine'. Donations can be made at the door.